Tour itinerary
EXCLUSIVE - In 2020, we improve this trail to make it even more intense:
14 days on horseback instead of 12
More varied landscapes: lakes, canyons, dunes, grasslands, forests, cliffs, volcanoes and mountains!
This 3 weeks trip to Mongolia on horseback is a real horseback adventure which enables you to ride really deep in authentic Mongolia. It combines:
- a 5 days horse riding trail between cliffs and dunes, around a sacred moutain.
- a 9 days equestrian expedition in the canyons and volcanoes of Arkhangai (Central Mongolia)
TransMongolia is aptly named and offers an unparalleled discovery of Mongolia on horseback!
Day 1: Ulan Bator
Welcome to Mongolia!
Your English or French speaking translator is waiting for you at Ulan Bator airport at the arrival of Turkish Airlines flight for a grouped transfer. You can book any flight landing before Turkish Airlines flight. If you are already in Ulan Bator, you can join the group at 14:00 in the lobby of the hotel.
Lunch in Ulan Bator.
A short walk through the surprising yurt (ger) district takes you to Gandantegchinlin Monastery.
Back to the hotel after admiring the impressive golden Buddha Statue, you can relax in your room or enjoy the swimming pool, spa and gym at the hotel (extra fee to be paid locally).
Dinner and overnight at a 4* hotel (twin room).
Day 2: Ulan Bator - Khogno Khan / Bayan Gobi Park
Breakfast and transfer to Khogno Khan Park.
Lunch on the way.
First contact with the nomads who will be your guide for this part of the trip. We will sleep in a guest yurt close to their own family yurt (ger) this evening.
Dinner and night with our nomadic friends (up to 5 riders per yurt, shower tent available).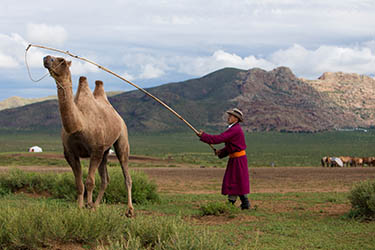 Days 3 to 7 : Horse riding trail along the Sacred Mountain
After breakfast, we start the first part of this epic horse riding adventure in Mongolia!
For 5 days, we will ride between cliffs and dunes, along the Khogno Tarna Sacred Mountain. This region is visited by very few tourists, as they stay in the southern part of the Bayan Gobi Desert, where the road and gercamps makes it easy for travellers to stop.
We are heading north, keeping the cliffs of the mysterious Khogno Tarna Mountain on our right.
This mountain is full of historic legends, as it hosted the large Ovgon Khiid Buddhist monastery, which was destroyed and all the monks killed by the troops of Galdan Boshigt Khan in 1640. The temple was rebuilt later, but destroyed once again totally during the communist regime in 1937.
At the end of the communist period, in the mid-1990's, the temple has been rebuilt again, and we will have the opportunity to visit it on our first day on horseback.
We will also enjoy another riding experience with a Camel ride in the dunes of Bayan Gobi.
These 5 days in the saddle are full of variety, as different ecosystems meet here: steppe, taiga, desert, rivers and the impressive granite formations of the mountain. So we can find a fauna and a flora that are characteristic of these ecosystems, as well as wonderful landscapes. 
This part of the ride ends (eventually after a short road transfer depending on the local conditions) close to Ugii Lake, famous for its migratory birds.
Nights in tents. Shower tent to share.
Day 8: Ugii Lake - Arkhangai
After breakfast, we drive East to reach the departure point of the second part of our horse riding tour in Arkhangai region.
Picnic lunch en route.
We cross the Khangai mountains and arrive at the yurts of the nomads who will guide us during this tour and who breed the horses we will ride.
We can participate in their activities, and become acquainted with the various family members.
This night, we will sleep in a "guest-yurt" close to our nomad family's yurts.
Days 9 to 17: Horse riding tour in Arkhangai (Central Mongolia)
After breakfast with our nomadic family, we start our horse riding adventure in Mongolia.
During the next days, we will ride in the Arkhangai region, following a Northwest direction to Lake Terkhiin Tsagaan Nuur, the "White Lake", the Chuluut and Suman rivers canyons, Khorgo Volcano ...
This ride is a real horseback adventure as we will reach a different place every day.
Arkhangai - Northern Khangai - is a very wild region covered with forests. Valleys are narrower than in the Orkhon Valley and the steppe gradually gives place to dense larch forest.

Rivers and valleys are mainly oriented perpendicular to our direction, so our horseback ride will cross many rivers and mountains.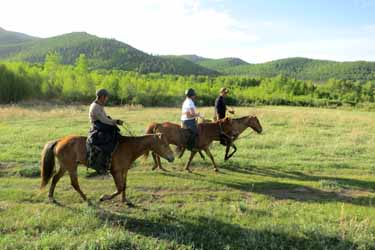 On the first days, we ride along the banks of the Tamir river, which is very mighty during spring and summertime.
The Tamir Valley is very green and wooded. Some of the poplars in the region are older than 300 years.
We cross densely forested mountain ranges, virtually uninhabited. We immerge in wild Mongolia, very different for the steppes of the Orkhon Valley. The ride goes on in more open spaces, offering many opportunities for nice canters. We meet many yurts and herds belonging to nomads.
We also ride along the Chuluut canyon, dug by the river in the lava from Khorgo volcano. The basalt canyon is a hundred miles long and forms a spectacular scenery.
Nights in tents.
Day 18: Road transfer to Karakorum
After breakfast, road to Karakorum, the ancient capital of Mongolian Empire.
Visit of Erdene Zuu Monastery.
Dinner and night at a yurt camp (2 to 4 riders per yurt, with single beds, showers in a separate building).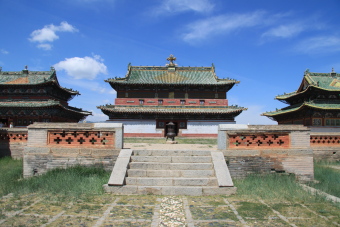 Day 19: Karakorum - Ulan Bator
Breakfast and early departure to Ulan Bator where we arrive in the afternoon.
Lunch en route.
The rest of the afternoon is dedicated to shopping in stores downtown, or at the Narantuul "black market" where you will find traditional clothing and objects of daily life.
In the late afternoon, you will attend a show with traditional dances, music and songs from Mongolia, especially the amazing Khoomei.
No dinner included, to let you choose among the varied dining opportunities offered by Ulan Bator.
Night at Nine hotel or similar (3* - twin room).
Day 20: Ulan Bator
Breakfast and transfer to airport on time for Turkish Airlines flights.